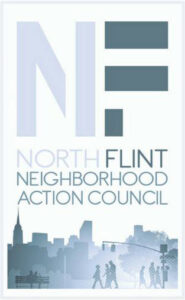 The North Flint Neighborhood Action Council hosted a quarterly Illuminating Community Change Safety Forum via Zoom on November 19.
Recognizing the need for residents and business owners to meet and discuss issues surrounding their community, the convening is just one of many strategies supported by funding from Hamilton's IC2 community based crime reduction grant awarded to help change the quality of living north of Pierson road.
The topics of discussion focused on the proposed in-fill of I-475 creating a disconnect to the north side of Flint.  Residents and business owners shared safety concerns and the need for law enforcement to enforce ordinances, remove or make arrest for drug activity
and loiterers at gas stations and convenience stores.  Suggesting the fining of establishments that allow the sale of narcotics on their property and the enticing of those eager for trouble by selling single cigarettes, tobacco, liquor and other paraphernalia to minors.
These are proven measures used to reduce crime and violence in urban areas and the Pierson Road business corridor and other micro hotspots for undesirable activity and behavior in Flint is no different.
The next IC2 Quarterly Safety Forum will convene February 2021 with more information to come.
These gatherings aim to create awareness, find and build bridges and opportunities for economic development and help businesses in the community thrive and become more responsive to the needs of the residents that patronize them.
Visit our social media page to stay abreast of the work Hamilton Community Health Network and grantees of Illuminating Community Change project initiatives are doing in and for Flint.
Visit the NFNAC website: https://northflintnac.wordpress.com/
Follow NFNAC on Facebook: https://www.facebook.com/NorthFlintCBCR
Follow NFNAC on Twitter: https://twitter.com/northflintnac