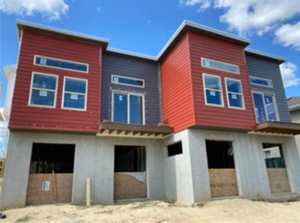 When brothers Justin Bush and Jeron Dotson went to the bank to get a loan for their dream of opening a restaurant, right here in their hometown of Flint, Michigan, they were turned down. They knew that had to find another way, but had no idea where to start. "Sure," Jeron laughs, "we had mediocre credit, college debt and a car loan, but is that abnormal?"
Growing up in a family with eight kids, cooking comes naturally to the brothers. Justin trained in culinary studies at Genesee Career Institute, before working as a cook in a local hospital. Jeron enjoys cooking too, but as a recent graduate of the University of Michigan, Flint, he prefers the administrative part of the business. Both wanted to stay in their hometown and both felt the pull to spend their time working toward something bigger, something of their own.
Originally, their plan was to make music videos and they took a trip to California to get started. On the trip, they were exposed to the Hawaiian and Japanese inspired Poke cuisine and fell in love. "Why don't we do this? Why don't why take Poke Bowl to Flint?" asked Jeron. They started cooking as soon as they got home, then entered and won a business competition at Flint Soup, a non-profit that awards microloans to emerging businesses. Their pitch was a success and word got around. With the help of Flint Soup, Michigan's Small Business Development Center and other area partners, they got the business training necessary for success.
It looked like they were well on their way, until they were turned down for their crucial start-up business loan. Without the loan, the dream was dead.
Then, Habitat came along. Here at Habitat, we were ready to break ground on our Work/Live Project, located on the University Corridor near Kettering University in Flint. The project is aimed at, not only giving business owners a "hands up", but is expected to bring economic opportunity to the local community. It features side by side commercial spaces on the lower level and private living spaces for the business owners upstairs. The brothers and the Poke Bowl eatery were a perfect fit for one of the units.
The brothers agree, "We didn't have anyone to vouch for us. Now we have Habitat. They have brought us stability and now we have the actual physical means and resources to be successful. There are a lot of people who will tell you how to run a business and help you that way, but with Habitat, it was different. It's hard to put into words. They are like family. They really believed in us in a way no one else did."
The pandemic has slowed construction and postponed their grand opening until after the new year, but it hasn't slowed down the brothers. Their Poke Bowls can be found in the deli section of several area markets. The living space, however, will be finished sooner than the rest of the unit and Jeron says he was "super excited" when he learned he would be able to spend his first Christmas there. "I was praying for an affordable, safe place to live while building our business. God has answered my prayers through Habitat."