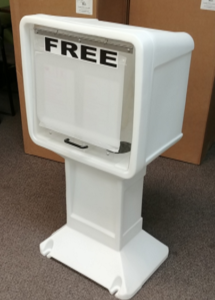 Your Community Newspaper has acquired a dozen newspaper boxes through a Community Foundation Grant to help distribute Flint: Our Community, Our Voice. There is one currently at the MLK mural on King Avenue.
We'd like to know where YOU think we should place one of these at a distribution point in Flint.
Farmers Market, Flat Lot, wherever you think would be a good location. We are sharing them with other publications as well.
Your input would be appreciated. Send your suggestion to fnucommunications@gmail.com. Thank you!