As nearly all of you are painfully aware, Republic Services, like nearly all business and service industries, has been slowed and made less efficient by staffing shortages caused by the Covid pandemic.
In Republic's case, it has resulted in slow to non-existent yard waste and recycling pickup.
Beginning the week of June 28 Republic has announced a staggered pickup schedule for yard waste and recycling. On alternate weeks yard waste and recycling will be removed. Yard waste the 1st week, (week of June 28) and recycling the 2nd week, (week of July 5) and alternating each week moving forward until the staffing situation improves.
Regular trash and garbage pickup will go on each week as scheduled.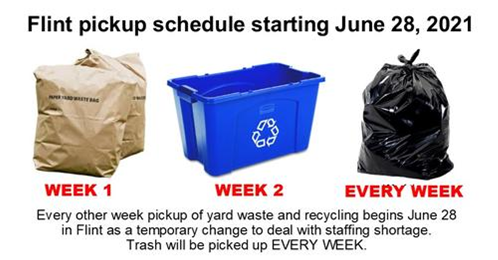 Please remember that yard waste must be placed in bags or neatly and securely bundled. Recycling must be placed in your blue bin or otherwise marked container indicated with the recycling symbol or obvious wording that it is recycling.
As a reminder, here are Republic's conditions of trash pickup.
Regular Refuse Collection:
Garbage (food waste), Rubbish, Paper, Bottles, Cans, Ashes (cold), Crockery that cannot be recycled.
Bulk (1 item limit per week) Furniture, Rolled/tied carpeting (4ft.length,50 lbs. limit), Appliances which do not contain refrigerants, Appliances from which refrigerants are removed by a certified technician and labeled (Reminder: Remove refrigerator doors)
Pickup Location:
Refuse will be collected from the curb on paved streets, at the edge of the roadway on unpaved streets. PLEASE DO NOT PLACE IN THE STREET!
Approved Containers:  Rigid metal or plastic cans with tight fitting covers. Tightly sealed plastic bags not less than 10 gallons or more than 32 gallons in size.
Unacceptable Containers:
Cardboard containers, Paper bags,  Paint cans, Wastepaper baskets.
Maximum Weight: 50 lbs. No container or bundle weighing in excess of 50 lbs. will be collected.
Preparing the Refuse
Wet kitchen waste must be drained and all garbage must be wrapped before being placed in a container. Animal waste should be drained and wrapped.  Newspapers and magazines not recyclable may be securely tied in bundles not to exceed six (6) bundles and not to weigh more than 50 lbs.
PLEASE NOTE: No chemicals on/in bags.
Limits:
One (1) bulk item per week.
Regular refuse collection: Maximum 20 bags/cans/bundles.
Pickup Time: Refuse must be set out by 7:00 am on the scheduled but no earlier than 7:00 pm on the prior evening. Earlier placement is a violation of City Ordinance.
New Residents: If you are a new resident, call 800-438-0966 or check the service area map to confirm your scheduled collection day.
Unacceptable Items: Demolition materials, Liquids (including waste oil and paint), Tree limbs greater than 2 inch in diameter and 4 ft. in length. Concrete laundry tubs, Hazardous or toxic wastes, Large quantities of household goods, including move outs and evictions, Any other item(s)  deemed by Republic Services to be uncollectible (see move outs/evictions above. Special arrangements MUST be made and you WILL be charged.)
These rules are to protect both Republic workers and YOU!