Tuesday, August 31, 2021 will be a special day for our community as Mott Community College officially opens the doors of the new Lenore Croudy Family Life Center on its main campus in the City of Flint (inside the historic former Woodside Church designed by legendary architect, Eero Saarinen, who also designed the Gateway Arch in St. Louis among many other buildings).
The mission of the LCFLC is to reduce challenges, remove barriers, and provide innovative support services in order for MCC students to succeed and thrive.
Lenore Croudy served on the Mott Community College Board of Trustees from 1987 to 2016, a total of 29 years. During that time, Lenore was the Board Chair for almost twenty years. Mrs. Croudy passed away on January 19, 2017.
In addition to serving MCC so faithfully and for so long, Mrs. Croudy was an educator and administrator in the Flint Community Schools for four decades, working first as a classroom teacher and ultimately retiring from FCS as Steward for Resources and Information.
In her eighty plus years of living, doing, and giving back, Lenore earned a well-deserved reputation as a tireless advocate for all forms of education. She was especially a champion for the personal needs of students and their families. She also embraced Mott Community College's unique role as a gateway, open-enrollment institution for many people — both young and older — in Flint, Genesee County, and the mid-Michigan region.
Lenore was an active force in education beyond MCC, with leadership at the state and national levels through the Michigan Community College Association, the American Association of Community College Trustees, and the American Association of Community Colleges.
Since 2016-17, and as a testament to Mrs. Croudy's legacy and life's work, MCC has been working on the development of the Lenore Croudy Family Life Center. On August 31, the Flint and Genesee County communities will finally be able to see the former Woodside Church in its new iteration — as a hub for Mott students and their families — that takes its name from MCC's longtime booster and Board Chair.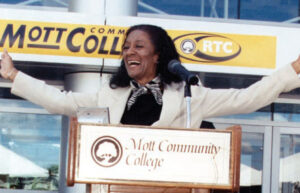 As a way to improve student success, retention, and completion at MCC, the Lenore Croudy Family Life Center will provide an array of personal (or non-academic) services that seek to reduce the many barriers college students frequently face: food insecurity; the need for high-quality child care; clothing; housing; transportation; physical and mental health supports and referrals; and emergency financial assistance.
The Grand Opening of the Lenore Croudy Family Life Center will take place at 10:00am on Tuesday, August 31, on MCC's main campus at 1401 E. Court St. The event is open to the public and will include remarks by College leadership and community dignitaries. Tours of the Lenore Croudy Family Life Center will take place immediately following the Grand Opening Ceremony and ribbon cutting (which will also include the debut of MCC's new, state-of-the-art Mobile Learning Lab).
Covid protocols will be observed, including temperature checks, mask wearing, and social distancing while indoors.
For additional information or to learn how you can support the Lenore Croudy Family Life Center's mission, please
Contact foundation@mcc.edu or dinah.schaller@mcc.edu.