Radio influencer and rock 'n roll legend Peter Lawrence Cavanaugh (aka Peter C.) died peacefully August 13, 2021, in Sharonville, Ohio, just a few weeks before his 80th birthday.
A pioneer in rock 'n roll radio, Peter enjoyed a 58% total audience share on his hometown station, WNDR in Syracuse, New York, when he was only 16 years old. He worked full time as a disc jockey while pursuing his bachelor's degree in Political Science at LeMoyne University in Syracuse, then married his high school sweetheart, Eileen, on May 23, 1964. The two moved to Flint, Michigan, where he continued his pursuits and pleasures as a Local DJ.
He worked the morning show at WTAC, and enjoyed bringing new music to the airwaves, being the first to play AC/DC and The Who on the radio in the United States. Also known for his "Wild Wednesday" events at Sherwood Forest, Peter C. produced hundreds of concerts for world-renowned rock n' roll acts.
Peter transitioned off the air and into radio management, serving as general manager of WTAC. In 1977 he moved to Reams Broadcasting, where he worked as general manager for WWCK FM-105 also hosting his "Sunday 60s" radio show.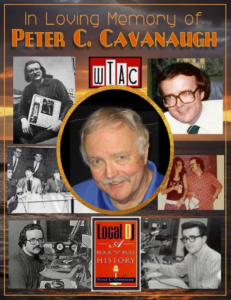 Peter chronicled many of his rock 'n roll tales and legends in his best-selling book, Local DJ which is still in publication and available on Amazon. His writings can also be found at petercavanaugh.com. A gifted writer and public speaker, he's widely known for his saying, "It's all in how you look at it, it's all in how you study it," and the enthusiastic "Rock N Roll!" that he exclaimed at the end of many conversations.
Born September 8, 1941, in Syracuse, New York Peter is survived by his wife of 57 years, Eileen, and their four daughters: Laurie (Paul) Thome, Coleen Pyron, Candace (Jeff) Buehner, and Susan (Rich) Seiling.
Peter found great joy in his dozen grandchildren.  He also leaves behind his treasured brother and best friend, Paul (Cindy) Cavanaugh and their children as well as many other beloved cousins, nieces, nephews, and friends.
The above are the "official" words in Peter's obituary, but they hardly describe the Peter Cavanaugh that I knew as a friend and boss.
I would describe Peter as the World's Largest Leprechaun. Bigger than life with his Irish wit and impish charm.  Peter loved life, his wife, his 4 daughters (each one more beautiful than the other) and his legions of friends around the country and the World.
He rubbed elbows with rock royalty and loved to talk about it as if it were no big deal.
I came to Flint in 1978 and Peter and I were "neighbors" on Lapeer Road. He at WWCK and me at ABC12. I met Peter because the two stations would occasionally collaborate on special projects. He and I worked together for the first time when he came to the studio in the WWCK "Rock of the 80's" era to produce a television commercial for the radio station.
Peter's first question to me was: "How many pictures can we fit into a 30 second commercial?" I replied: "Well, technically, 900." Peter's response? "Rock and Roll!" And we were off. We didn't exactly reach 900 pictures in those 30 seconds, but we did reach somewhere north of 650. The ad was a hit and won advertising awards.
In the early 80's Comcast was not airing MTV on the local cable. Peter saw an opportunity and cajoled Ch 12 management to collaborate with CK and the "Rock & Roll Video Show" was born. I was the director of those shows and they continued taking the place of MTV locally until Comcast came to their senses and added the channel.
Peter was a great many things to a great many people. I am proud to say that we were friends. When Peter became Local Sales Manager at (coincidentally) Comcast, he hired me as a novice ad salesman. My first sales job ever.  I took the job because, in my experience, Peter knew what he was doing.
I will leave you with the writing of his daughter, Susan:
I'm sad to tell you that my Dad passed away Friday morning.
My childhood was unique with Peter Cavanaugh as my Dad. He was a pioneer of Rock N Roll radio, a DJ, a concert promoter, a creative innovator, a master wordsmith, and a natural leader.
His presence was big, commanding, and passionate, wherever he went.
But some of my favorite childhood memories with him were really quite simple: sitting on the front porch, watching Midwestern thunderstorms roll in; him making "cowboy pancakes" with every possible condiment in the batter; feeding the carp together at Cedar Point; riding on a pink floral pillow on the back of his motorcycle as we went to get Coke Slurpee's at 7/11.
I love you Dad. May God bless you and keep you and make His face shine upon you, and give you peace forever. (Irish blessing; Numbers 6:24-26)
So let us lift a glass of Irish whiskey and  offer a fond farewell: "Death leaves a heartache no one can heal; Love leaves a memory no one can steal."
Rest in Peace, Peter C.