The Neighborhood Engagement Hub (NEH) board of directors proudly announces Thomas Wyatt as our incoming Executive Director effective October 4th. Mr. Wyatt brings experience working with diverse communities in Flint. His experience with community engagement and expertise in management, planning, development, and implementation of projects is crucial to moving NEH forward as an organization.  Mr. Wyatt has maintained close ties to Flint. He is a firm believer in building strong relationships with neighborhood residents and community stakeholders at all levels.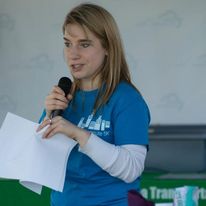 "With Mr. Wyatt's arrival, we sadly have to say goodbye to our current executive director, Ashley Everhart.  Ms. Everhart is moving on to pursue other opportunities. She was our first executive director and was instrumental in growing the organization to what it is today. We thank her for all her hard work over the years and wish her the best in her future endeavors," said Board Chair Antwan Edson. He added, "Ashley has agreed to remain for a few weeks to help us transition to a new director.  We are honored as a board to have worked with her."
The Neighborhood Engagement Hub is a nonprofit organization located on the north side of the City of Flint. The organization was formed in October 2014 by a group of Flint residents seeking to empower community members to create vibrant neighborhoods. The organization's mission is to strengthen and restore communities by providing a source for information, education, facilitation, project development, advocacy and supportive equipment and materials. NEH has three primary program areas dedicated to fulfilling its mission – the Community Tool Shed, the NEH Community Center and Neighborhood Support Services.
For more information about the Neighborhood Engagement Hub please contact us at director@neighborhoodengagementhub.org.
Editor's note:  Ashley will be around for awhile at the HUB so, you may wish to drop by at 3216 Martin Luther King Avenue and offer her your best wishes.  Ashley has been a godsend and a hard worker for the city and the residents of Flint these past few years and her contributions will be greatly missed as much as they are greatly appreciated.
Good Luck, Ashley!