Real Bodies: The Exhibition Opens July 7
Partnering with Hurley Medical Center
Sloan Museum of Discovery and Hurley Medical Center announced in a joint press conference today that REAL BODIES THE EXHIBITION, the highly original and thought-provoking exhibition of human anatomy, is coming to Sloan Museum of Discovery July 7, 2023 through January 14, 2024. Tickets go on sale effective today. This will be the first time this international exhibit will be seen in Mid-Michigan. The opening of REAL BODIES will also mark the opening of the FUN Gallery, Sloan Museum's 6000 square foot exhibition hall which will be used for special traveling exhibitions.
This powerful exhibition explores life by displaying real, perfectly preserved human bodies in eleven themed galleries with more than 200 anatomical specimens. REAL BODIES invites visitors to explore the entire human experience from the first breath to the last. The exhibition pushes boundaries while seamlessly blending art, science, and emotion as a museum of the Self. Exploring these systems within the body, REAL BODIES reveals deep synergy between breathing, hunger, the rhythm of the heart, love, motion, thought, and medicine that makes each person unique.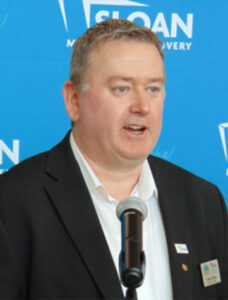 "I have been waiting to bring this exhibit to Mid-Michigan for eight years," said Todd Slisher, Executive Director of the Sloan Museum of Discovery. "Sloan's mission is to engage communities in a learning journey in science and history, and this is a dramatic first traveling exhibit at the new Sloan to showcase that commitment. It will be a rare and inspiring experience for many Michiganders," Slisher added. The exhibit is expected to draw visitors from through Michigan, Ohio, and Ontario.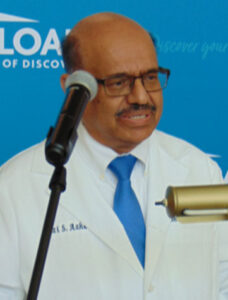 Hurley Medical Center is the presenting sponsor for the exhibit. "The Real Bodies exhibit follows our mission of healthcare access for all," stated Dr. Qazi Azher [pronounced KAH zee a-ZERR) Hurley Medical Center pathologist and spokesperson for Real Bodies. "We hope it inspires children AND adults to better understand their bodies and improve their health. Hopefully, it will also inspire the next generation to become physicians, nurses, radiology technicians, pharmacists, nutritionists or researchers," Dr. Azhur added.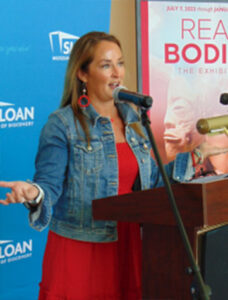 Dr. Azher and Mr. Slisher were introduced by Shannon White, FUNchitechture President at Sloan Museum.
The exhibition, produced by Imagine Exhibitions of Atlanta, Georgia, has been recently updated to include the latest science-based information about COVID-19 in an effort to educate visitors on how SARS-CoV-2 impacts the major systems of human anatomy—from respiration to circulation. This new content was created by the Imagine Exhibitions team working alongside emergency medicine physicians and epidemiologists with experience in emerging infectious disease preparedness and response.
REAL BODIES opens to the public July 7, 2023 through January 14, 2024 from 10:15 a.m. to 5 p.m. Tuesdays-Saturdays, 12:15-5 p.m. Sundays, and late evening hours on the 2nd Thursday of each month from 10:15 a.m.-8 p.m..
Ticket sales open April 11 and will be sold at :15- and :45-minute times for timed entry. Tickets and information are at www.SloanLongway.org/Real-Bodies. Group reservations may be made at Reservations@SloanLongway.org, or by calling (810) 237-3409.