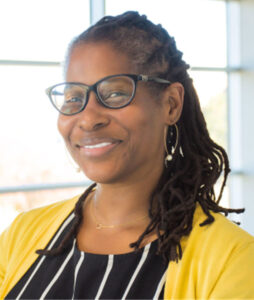 John F. Kennedy once said, "Leadership and learning are indispensable to each other." With a vision of being Flint's go-to place to learn for life, we know how important a strong leader is to both our organization and our community. So it is with great joy and excitement that we welcome Ms. Taliah Abdullah as our next Executive Director. She assumed her responsibilities on July 24, 2023.
Ms. Abdullah comes to Flint from the Arapahoe Library District in Englewood, CO. She has worked in academic, school, and public libraries in multiple states, and has served in management positions for 20 years. She is a champion and leader for equity, diversity, and inclusion in life, for libraries, and for her team. She holds a Bachelor of Science degree in Elementary Education, as well as a Master's in Library and Information Science. She is also working towards her PH.D. in Information Science.
"The strategic priorities of the Library, and its focus on community, mesh perfectly with who I am and what brings me joy," says Ms. Abdullah. "When I visited Flint Public Library, I saw a bustling Children's Room. I met friendly, helpful staff members. The space is beautiful and it offers so many ways to connect with existing and new patrons. I look forward to working in a community that sees its library as a place for collaboration and growth."
"The Board of Trustees is thrilled to welcome Taliah as our new Executive Director," says Board President Reta Stanley. "She will bring experience, enthusiasm, great communication skills, and an open door policy to engage staff and deepen the connection with our patrons. We feel very lucky to have found her and look forward to the Library's continued advancement with her at the helm."
Calendar Items
All of these events are free and open to the public.
Aug. 9: 12:00pm Virtual Reality for Seniors
Aug. 9: 4:00-6:00pm Lego Club building challenge
Aug. 19: 6:30-7:30pm Evening Readers Book Club, featuring "97 Orchard: An Edible History of Five Immigrant Families in One New York Tenement" by Jane Ziegelman
Aug. 12 12:00-1:00pm Podcasting @ FPL*
Aug. 12: 1:00pm Super Saturday Storytime
Aug. 16: 4:00-6:00pm Lego Club building challenge
Aug. 16: 6:00pm Podcasting @ FPL*
Aug. 16: 6:30pm Community Yoga
Aug. 19: 10:00am-5:00pm Friends Book Sale
Aug. 19: 2:00pm Family Performance – Bubbleman
Aug. 19: 3:00pm Chess Club for kids and adults
Aug. 23: 4:00-6:00pm Lego Club building challenge
Aug. 26: 6:00pm Blues on the Library Lawn
Aug. 30: 4:00-6:00pm Lego Club building challenge
Sept. 1-2: Library closed for Labor Day
* Registration required for these events.  Please visit our website to sign up.
Online Calendar
Our website calendar features the most current information about library programs.  Please visit www.fpl.info for more information and a complete event listing.